Part IV – Alaskan Moose Together
By Adam and Brenda Weatherby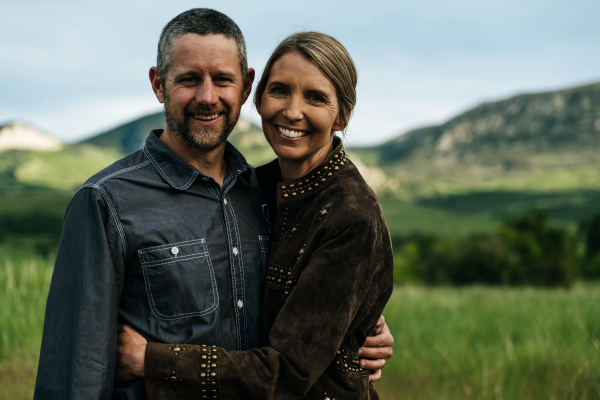 Sometimes it is important to go all out on a hunt together and plan one that you will never forget and then, once you are there, make the most of every opportunity. Our trip this last September to Alaska was certainly our most epic hunt together. Amidst 2020 and the chaos we have all experienced, we did everything we could to keep this hunt on the calendar. It almost got cancelled multiple times, but we pushed through to make it happen.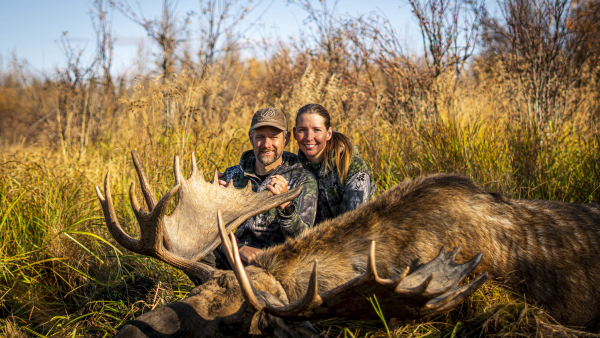 Moose was our goal, specifically two bull moose and we had a contest going between ourselves that whoever harvested the biggest one would be shoulder mounted in the Weatherby Inc. lobby. Our chances were good that we could tag two legal bulls and we were hoping for one big, lucky one. We flew to Fairbanks and then hopped on a float plane to a river outside a small village on the Koyukuk river. It was literally in the middle of nowhere. We stayed in wall tents on the river and boated up and down finding small clearings in the thick willows. Bulls were rutting so all it took was a few scrapes on the trees with our plastic oil can and they would venture out and look around to see who was looking to fight.
We called in plenty of bulls, but most of them were borderline legal so we passed and passed again. The experience to see those animals up close was nothing short of amazing, probably the best part of the trip. We also found ourselves lost in our thoughts a lot because this kind of moose hunting involves a lot of sitting and listening. Brenda seemed to enjoy this aspect maybe a bit more than Adam. You see, this was Adam's third moose hunt and the first two he got skunked because of weather and bad luck. Knowing this, Brenda really wanted Adam to get the moose of a lifetime while her personal expectations were a bit lower. She was just happy to be along. At the same time, Adam wanted Brenda to have a great experience. It was like all along we were routing for each other more than we were routing for ourselves. Of course, each of us wanted to tag out, but our thoughts were more focused on the other. In life, hunting and every relationship, this situation is ideal.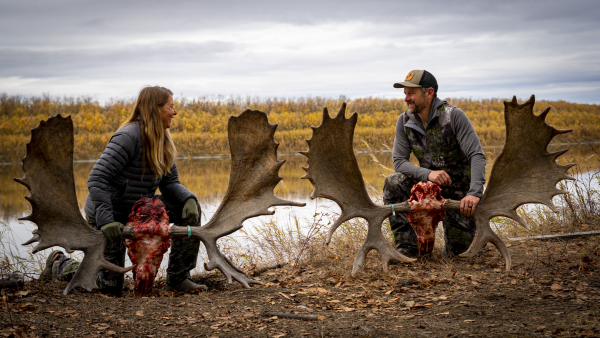 Day 7 came and neither of us had seen a legal bull since Day 2. We were serious at getting at least one bull on the ground ASAP. Each of us were with a guide and we wished each other luck as we headed out. Brenda will never forget the text that said, "monster bull down". She squealed in delight and headed towards Adam to hear the story. After a long morning watching and waiting, they had repositioned to a new area. At the first scrape on the willow tree, it was returned with a loud and deep grunt. Adam and the guide both looked at each other with a promising nod. Moments later, the bull emerged from the trees just 87 yards from where Adam stood. At one glance, the guide nodded, and Adam knew it as well was a shooter. Not even a second passed and the bull was on the ground. Adam had his trophy that he had been hunting for over the course of three different moose hunts to both Alaska and Canada. He was so excited when Brenda arrived so he could enjoy the moment with her and show off his moose.
The hard work began as Adam, Brenda and the guides carefully prepared the meat for transport. It was about 6 hours of cutting as Alaska requires every piece of meat to be taken, even the ribs and brisket. This process was a great learning experience for both of us. As we did this, we had two other bull moose come right up on us, neither were legal but it was exciting all the same. Now, at this point, we both really felt like this moose was more than we could have hoped for. We thought of it as "our moose" in case Brenda didn't get the opportunity to shoot her own. But we had two days and we decided to hunt hard.
The next day was fairly uneventful and it was easy to get discouraged. Brenda recalled knowing in her mind that there were good chances that she would go home empty handed but also that it had been such a fantastic hunt. To tag one for herself would be icing on the cake. The evening of Day 8, there was about an hour of daylight and we decided to try one more clearing. The wind was right and there were sounds of cows nearby. We felt like this was "it". At our first scrape in the trees, we saw movement and expected to see a moose. All the sudden, we realized it was a black bear and knew no moose were around anymore. The guide identified the black bear as a shooter and asked if one of us was going to shoot it. Brenda declined because she had come for moose not black bear. There would be very little odds that after meat preparation and transport to have time for her desired opportunity. Adam also decided against shooting it, not because he didn't want to, but because he put Brenda's hunt above his own. The frustrated guide couldn't believe it.
We went back to the boat and decided to look into one more area with only 20 minutes of light. It was our last ditch effort. Cows were in the field as we arrived and with one scrape, a big bull appeared circling up his cows. He was over 500 yards away and we thought for sure he would come at us. Time after time, we called, and he wouldn't leave those cows. At 470 yards, Brenda set up. She asked Adam to back her up if needed so the bull wouldn't get into the trees. Tip: let the hunter make the decision and only help if the hunter asks for help. Brenda made the shot and the bull sat down. She put another shot into him and he wasn't going anywhere. Brenda was so happy that Adam was there, just in case, but that he let her do it on her own. This is very important as well. Sometimes we want our spouse to be successful so bad, that we steal the success when it was not needed. Brenda's confidence soared after that hunt and gave her what she needed to make an even further shot on an elk later in the season.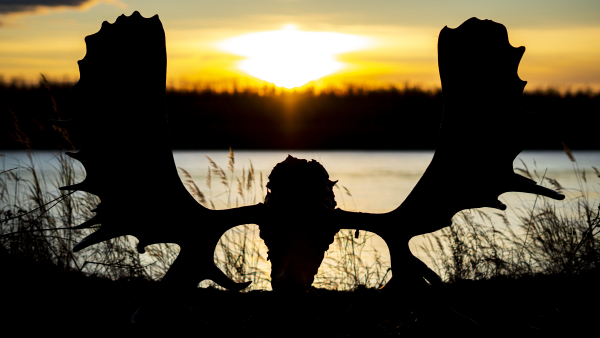 To be able to experience a hunt like this together made it all the richer. We do understand that not all people will be able to go on an Alaskan Moose hunt together, but we all have dream hunts at different levels that we hope to accomplish and experience at some point in our life. To be able to hunt as husband and wife and make these memories together is something that we don't take for granted. We believe that a strong marriage is one of the biggest blessings that we can have on this earth. For us, hunting as only helped to deepen this relationship. We hope you have enjoyed our stories and tips and invite you to join your spouse in adventures that will always be remembered. We don't think you will regret it!