By Courtney Nicolson - Associate Director Marketing & Communications, Sportsmen's Alliance
Living in New England, the most common barrier to hunting that I hear is "I don't have anywhere to hunt." Not, "I don't know where to hunt" would insinuate that they needed a lesson on habitat and scouting. They often know precisely where the game is, but it is either on private land or public land that is too pressured. With significantly reduced public land in the northeast, many hunters must get creative on where to hunt.
We all know the tried-and-true recommendations for getting hunting permission: politely knock on the door of an old farmhouse, bake them a pie, etc. While that might still work in some parts of the country, those days are becoming a memory in other regions as sprawl and modernization push on. The increase in hunting clubs, leases, and outfitters means a decreased chance of finding a private parcel to hunt for free.
Regarding public land, you're probably familiar with the regular go-to's like state wildlife areas, but you might be overlooking some land held in the public trust. Here are a few recommendations for finding private land to hunt and public land that might not be on your radar:
Land Trusts
Here in New England, land trusts comprise considerable public space. While many of them do not allow hunting, many of them do. In my state, almost every town has its own land trust, with a statewide non-profit organization supporting all of them. Get a list of all the nearby land trusts and give them a call to see which ones allow hunting.
Many land trusts will offer an agricultural lease to a local farmer to utilize the land in exchange for good stewardship. They might use the fields to grow grasses or vegetables, and you might get a perfect food plot! One such land trust that I hunt gives the discretion to the agricultural leaseholder whether they want to allow hunting. For years, the previous leaseholder had given a "no." Suddenly, once the new leaseholder took over, they granted permission.
Once you do find a land trust, get involved! Sign up to volunteer for clean-up days, attend planning meetings, and donate to their cause. Not only will you be working to protect the land, but you'll find comradery in a new community. You might even have the privilege of meeting some non-hunters and changing their perception of hunting.
Beaches & Lakeshores
When most people think of Cape Cod beaches, they think about sunny summer days with a lobster roll. But when the tourists leave, the beaches turn into a hunter's paradise. Cottontail rabbits are the most common game to chase and can be plentiful. A 4x4 vehicle with tires that can handle the deep sand can give you access to areas that aren't heavily hunted. A beach pass might be necessary but well worth the investment. The spots can be a duck hunter's dream and as long as you've got waders on, hop in the water for some wintertime clamming! While illegal in New England, hunting doves in the short scrubby trees that line the dunes is a fun pursuit.
Military Lands
When the Sikes Act of 1960 was passed, it required the US Fish and Wildlife Service, state departments, and the Department of Defense to "conserve fish, wildlife, and habitat across US military lands and support the sustainable multipurpose use of the resources, which shall include hunting, fishing, trapping, and non-consumptive uses." The DOD occupies just under 10 million acres on over 40 bases. These sites will all have regulations and restrictions you must know. Many bases only allow active duty personnel to hunt; some may extend to veterans. Very few allow non-military-related civilians to hunt, but there are a few!
Nature Preserves & The Nature Conservancy
Non-hunters often wonder (and contest) how consumptive management of game species can simultaneously provide a recreation opportunity and protect our plant life at the preserves. Turkey and deer are both herbivores that browse on plant material. When those local populations increase without a natural predator, the impact from these browsing animals can diminish the biodiversity of plant life and start to affect other organisms utilizing the area.
Stewards of preservation and conservation lands should observe both game and non-game species of flora and fauna. If so, they will often find that hunting in specific areas can benefit their property. These parcels can often fly under the radar and might have a particular permitting process requiring applying far in advance and completing observation reports. The Nature Conservancy oversees land in nearly every state in the United States. Become a member and see what opportunities are available in your state!
Reservoirs & Watersheds
Whether you're in the northeast or way out in the mountain west, many communities in the US rely on reservoirs and watersheds to provide clean drinking water. You might think reservoirs would be entirely off-limits to hunting, but quite often it is the opposite.
Watershed management goals include having an actively growing, diverse, multi-age forest for regulating stream flow. This maintains water quality and prevents erosion. Not only does deer browsing reduce tree growth regeneration, but that lack of re-growth also allows invasive plant species to gain a significant foothold- occupying the space where trees have been previously harvested.
Due to the impacts on the forest surrounding reservoirs from deer, many encourage limited hunting opportunities. Please keep in mind the unique and strict regulatory processes of each property. One such reservoir I hunt requires a free five-year permit from the Division of Water Supply Protection and also prohibits the use of dogs and boats.
The New Farmer
Here in New England on the weekend, you're more likely to find a farmer at a farmer's market than on their farm. Farmers' markets are a great place to find out who the local farms are, and in my home state, you can even pick up a free guide to every small farm in the area. Strike up a conversation and make a purchase. Ask them if they have any predator or pest issues on their property. Perhaps plan to drop by one day if they have a farm stand or do tours.
Many farms have work-share opportunities to exchange a few hours of fieldwork for a share of produce. Sign up for the summer and start a relationship. I have had success with just this method. One farmer revealed their ongoing fight against groundhogs eating their tomatoes. I purchased a few traps to give to them and showed them how to set them up. Soon I received many happy text messages accompanying a photo of a dispatched groundhog. When I mentioned hunting on the property sometime later, it was met with a smile and a "yes."
Explore!
Challenge yourself this year to hunt for one new place. Get creative; what other land access can you figure out?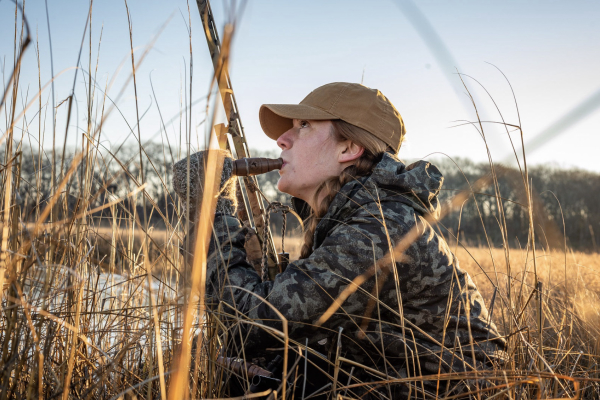 Courtney Nicolson is an outdoor industry media & marketing professional with 12+ years of experience in the hook & bullet sector. Her career has spanned from television production with Sportsman Channel and Outdoor Channel to sales with Hunt to Eat apparel to writing for major publications such as Wildfowl Magazine. She is the Associate Director of Marketing & Communications with Sportsmen's Alliance, an NGO founded in 1978. Volunteering and mentorship are at the core of what she stands for. She has been a Hunter Education instructor for 5+ years and a mentor with organizations like Sisterhood of the Outdoors. Courtney lives in Rhode Island and spends her free time fishing and farming in the summer and chasing grouse and woodcock in the fall.
The Voice of Leadership Panel is an appointed group of outdoor industry leaders who have volunteered to contribute their voices on crucial hunting and outdoor recreation issues to inform, inspire, and educate participants within our community.
2022-2023 LEADERSHIP PANELISTS
Facilitators