The Hunting Wire has partnered with Kimber, GPO Optics, and HSM Ammunition to embark upon a new series dedicated to telling the story of new hunters all across the United States. Paired with seasoned hunting mentors, novice hunters will go afield with "Bob", an old-school .257 Roberts, chambered in an ultra-modern Kimber 84M Hunter bolt-action rifle in hopes of hunting success.
By Jason Houser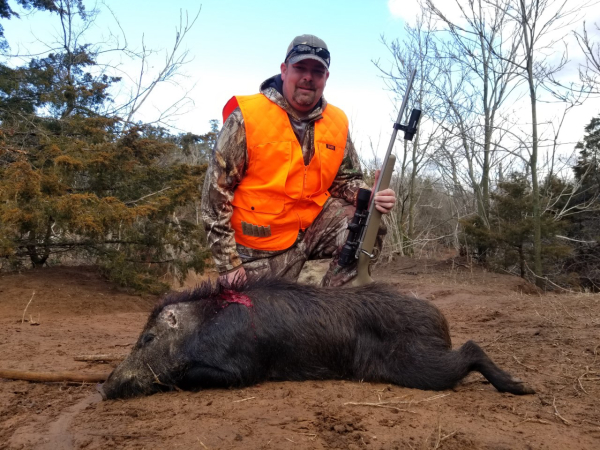 Mentoring a hunter can come in many shapes and sizes. It does not necessarily mean a young hunter new to the sport. It might involve a man or woman in their adult years that has never hunted before or even an experienced hunter for one species but looking to broaden their hunting experience on a game animal they have never pursued before.
That is the case with my nephew Brandon Richardson. Brandon is an experienced whitetail hunter in our home state of Illinois, and it stops there. On several occasions, Brandon has expressed an interest in hunting wild hogs and when the opportunity to travel to Oklahoma to hunt hogs at No Mercy Hunting Services I immediately knew who to take.
It turned out the timing was perfect as the "Hunting with Bob" series was in the infancy stage and I quickly jumped at the opportunity to be a part of this exciting mentoring opportunity.
Now, admittedly, my nephew and I are not rifle hunters for the most part. Being deer hunters in Illinois, shotguns are the weapon of choice. So, when we found out we would be using a .257 Roberts we were excited but knew little about the caliber.
After doing a little homework we quickly realized the .257 was a perfect choice not only for wild hogs but just about any big game animal in the lower 48.
This particular firearm Brandon would be using was the Kimber 84M Hunter model. The first thing we noticed taking it out of the box was how light it was weighing in at about 5.5 pounds. The Hunter features a lightweight stock, match-grade adjustable trigger, and a removable box magazine that allows for quick and easy loading.
For this hunt, we would be using optics from German Precision Optics. They included the Passion 3x 3-9x42 model scope, RangeTracker 1800 rangefinder, and Passion HD 8x42 binoculars.
The scope was nothing fancy but provided plenty of eye relief, a good field of view, and the hogs were easy for Brandon to find in the scope. This can sometimes be an issue for people that are not used to hunting with scopes.
The GPO RangeTracker 1800 is a compact range-finding tool with many features. The RangeTracker 1800 will show your range to target from 6 to 1800 yards, has a True-Range angle compensation feature, the Hyper-scan mode can give you three readings every second, and has 6X magnification.
Our binoculars proved beneficial as Brandon scanned the woodline for hogs hiding in the shadows and to find the hog that he would be happy with. PASSION™ HD binoculars are the flagship products of GPO. They are built to the highest optical standards, with incredibly low-light optical benefits. Users can see exceptionally fine detail from extreme distances while enjoying excellent color contrast images. This visual quality can only be made possible using GPO's proprietary GPObright™ lens coating technology. PASSION™ HDs have a wide-angle field of view, making users feel as if they are part of the spectra they are viewing. They are exceptionally lightweight and compact, making them feel nearly invisible around the user's neck. Incredible light transmission, 99.7 percent ags Double HD glass technology GPObright™ lens coating technology Center focusing locking diopter Tough aluminum eyecup tube Magnesium micro-bridge and body Waterproof and fog proof Ultra eye relief PASSIONdrop™ hydrophobic coating.
Sighting in the rifle just took a few rounds to get the results we were after with bullets impacting within an inch on one another. We knew beforehand that Brandon would be limited to shots not much further than 100 yards, so we didn't worry about anything further than that when sighting the rifle in. We had several brands of ammo that we tested but ultimately settled on HSM 115 grain bullets.
Arriving in Oklahoma our expectations were high for a successful hunt. The south is overrun with wild hogs and there is no better animal I can think of for a new hunter to pursue.
Shot opportunities are plentiful and sightings are all but guaranteed when hunting wild hogs. Hogs themselves are unpredictable and might show up for several nights in a row and then be gone for several nights more. The thing is that property often has several sounders of hogs running around so if one group leaves for a while, there is another to take its place.
Since Brandon is new to the sport of hunting wild hogs, our guide from No Mercy, Greg, gave a quick introduction on what to expect when hog hunting and most importantly what shots should be taken to ethically put down a big hog.
A big wild hog will have a shield covering its vitals and a misplaced shot will merely wound the animal. The shield on these hogs is merely a gristle that has thickened up over the years. But the shield has been known to deflect bullets. The right gun is important when hog hunting and we had it with "Bob' the Kimber 84 M chambered in .257 Roberts.
Dropping off Brandon at his stand, we were confident in his abilities to make a good shot and for the gun to do the rest. My nephew would be hunting over a feeder which is legal in Oklahoma. If everything would go as planned, hogs would quickly converge on the feeder after it went off.
It wasn't long after Brandon got settled in that I started receiving texts that he could make out hogs deep in the cedars behind the feeder. I told him to remain patient and be ready when that feeder went off.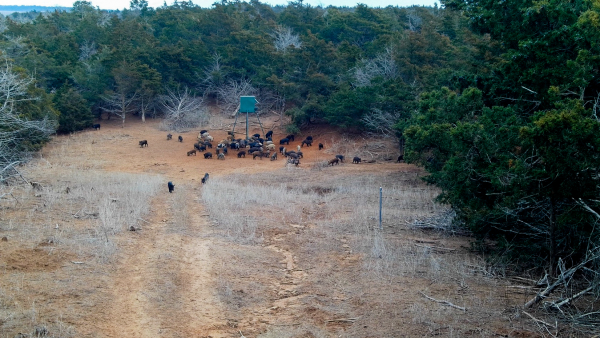 I was positioned about 300 yards from him in my stand. I elected to use a bow and was also patiently waiting for hogs to make their way into my stand site.
In the distance, I heard the feeder Brandon was hunting near go off and the unmistakable squeal of hogs as they made their way to the corn that now littered the ground.
I knew at any time I would hear a shot ring out, but it never came. I began to wonder what was going on over there. Surely, he didn't get hog fever.
Finally, about 30 minutes after the feeder first flung corn, a shot rang out. Shortly thereafter I received a text saying it was a successful hunt. It turns out that so many hogs came into the feeder that it was impossible to get a clean shot on just one hog. Brandon did the right thing by waiting for a hog to break free from the group and offer a good broadside shot at a tad over 75 yards. The hog was dead before the last echo of the shot carried through the air.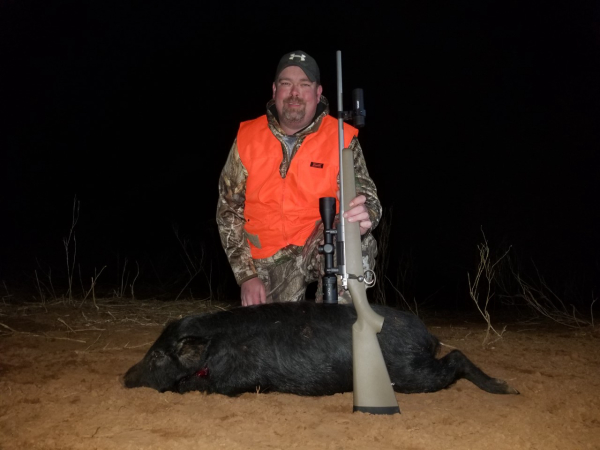 Throughout the next couple of days, Brandon took four more shots resulting in four more dead hogs. With patience, understanding the animal he was hunting, and being proficient with "Bob", Brandon had a successful and enjoyable hunt.
There are so many people that would love to get involved in hunting, or maybe an experienced hunter for one species would love to try hunting something else. The problem is that these future hunters do not know who to ask or are even imitated at the idea.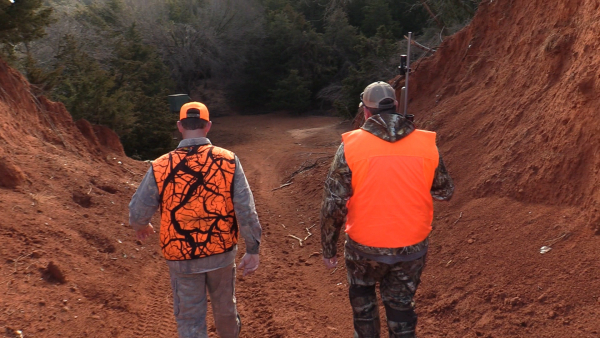 As experienced hunters, it is our responsibility to pass on our love of the sport to others. My nephew has hunted whitetails for more than 20 years and he finally expressed an interest in hunting hogs.
Now Brandon can take his knowledge and pass it down to someone else. That is what it will take for hunting to survive, a continuous cycle of hunters inspiring others to get outdoors and hunt. Are you ready for the challenge?
I encourage everyone reading this to get involved with the National Shooting Sports Foundation's Plus One Movement. If just one in three hunters adds one new person to our sport, we'll secure a strong future for generations to come. So be the one. Ignite the passion that can change the course of someone's life forever. For all hunting has done to enrich your life, join the +ONE movement and invite someone hunting.