Selecting the Right Hunting Ammo for Newcomers
By: Jon Zinnel — Federal Ammunition

The age-old question is, what ammo do I need to pursue this game or fowl? This is one of those questions with multiple answers, and the personal opinions come in very heavy. Here are a few basics to remember while you choose your next round of ammo to head out into the field.
Upland Hunting: Whether you are pursuing quail in the deserts of Arizona or roosters in Iowa, it is important to understand your choice loads and your choke tubes. Let's start the conversation with some smaller birds like quail or grouse and end with the mighty longtail.
Quail are fast, sneaky, and usually within close distance when running good pointing dogs. This is why you want more open chokes along with smaller shot sizes. This combination allows for the most opportunity to harvest. No. 7.5 shot size works the best in this application. If using a double-barreled shotgun, I'd suggest you set your chokes up for your first shot using a skeet choke tube and your follow-up shot being an improved cylinder. As the season continues and birds see pressure, many hunters go to larger shot sizes such as No. 6's. They slowly tighten their patterns using improved cylinder choke or modified tubes. This will extend their patterns for those further flushing birds.
The mighty ringneck pheasant is a hearty bird bearing their distinctive longtail, causing optical illusions and providing poor wing shooters with excuses for their missed birds for decades. Some pursue pheasants with flushing dogs, and some maintain that a pointer is the superior hunting companion, but all doggy discussion aside, let's jump into some shotshell options.
It is far more common to target a flushing rooster at a distance, and because they are heartier birds, it is best to tighten up your chokes and choose a larger shot size for the best ethical shot. Many advanced loads on the market today are designed explicitly for dropping roosters, whether by using blended shot, advanced wad designs, uniformity of components, and more. Many hunters choose to run a modified choke tube when chasing pheasants. This gives them more opportunities for further flushing birds. This is especially true during late season walks when the birds have seen pressure.
You must run your loads through various choke tubes at the pattern board at multiple distances to ensure they match up nicely with your choke tubes. If a pattern board isn't available at your local gun club, I suggest you find larger cardboard boxes or butcher paper and design your own pattern board analysis. Many hunters don't pay much attention to this quick and painless process to help them become more proficient in the field.
Waterfowl Hunting: Choosing a waterfowl load depends on where you are hunting and what species you plan to target. Many waterfowlers nationwide are set up for specific species, but most target multiple species on the water or in a field.
A 12-gauge shotgun is the tool of choice in the waterfowl world. But when checking in at sporting goods stores across the country or visiting with customers at the Delta Waterfowl's Duck Hunters Expo, sub gauges have resurgent in the market. With many more options coming out in 28 gauge and 16 gauge—and the shotshell technology improving astronomically—it is no surprise that hunters choose the lighter weight, fast swinging, and lower recoil options.
While searching for options for waterfowl hunting, keep in mind some of the advanced loads out there, such as Federal BlackCloud®, which offer a great blended shot option with consistent patterns. Another option is the new Hevi-Bismuth loads that provide you with 22 percent denser material over steel and more downrange energy for ethical harvesting.
Regardless of the gauge you plan to use, many hunters are expected to use smaller shot sizes, such as No. 4 in the early seasons. This provides more shot in their patterns for those quick-flying teal and smaller birds. As the season progresses and the larger birds head south and become more hesitant to decoys, hunters will choose larger shot sizes like No. 2 shot or BB loads.
Check out this great article on the Federal Premium website to better understand Selecting Chokes for Non-Lead Shot.
Centerfire Rifle Hunting: The decision on which is best between apples, oranges, or bananas may be an easier conversation than trying to point you to the best rifle cartridge. The bullet options are plentiful whether you're a purest with some of the original cartridges like the 30-06 SPRG or the .270 WIN. Some of the newer cartridges, such as the PRCs or the Creedmoors, offer just as many or more options in the marketplace. Bottom line, there are oodles of bullet options, weights, and manufacturers for those pursuing big or small game with a centerfire rifle. But here's a quick breakdown of some basics on the bullet options you may see when you head to the store.
The classic soft point "Cup and Core" bullet options exist in the masses, often at an economical price. This makes them some of the most common ammo for hunters. They perform very well on medium to large game and are known for their immense wound channels. Some evident challenges with the bullets await their contact with the animal; they may break apart and create some meat loss.
Many prefer Using a monolithic bullet for several reasons, including accuracy. After connecting with the game animal, many all-copper options provide great downrange energy within range and maintain their integrity and weight. These features make this a very popular option.
There are other bonded bullets on the market that, by using polymer tips, channeling around the actual bullets, and other technologies, can provide the hunter with match-grade accuracy, all while maintaining its performance on game. Some have come as far as to have electro-chemically bonding of the copper jacket to the lead core. This process provides a high-quality bullet that retains weight after connecting with your targeted species. These bullets with flattened trajectories and less wind drift, minimizing drag, optimize the downrange performance on game of all sizes. This simply means these are some of the most—if not the most—accurate hunting bullets with the highest weight retention to offer hunters an ethical harvest.
Muzzleloader Hunting: Hunting with a muzzleloader may only be for some, but it can provide hunters with longer seasons and, in some cases, additional hunting opportunities. From the original flintlocks to some more modern in-line muzzleloaders, there have always been limitations and challenges in dealing with moist powder, dirty nipples, and ignition issues.
In 2020, Federal Ammunition engineers launched a new proprietary patented propellant and ignition system called the FireStick®, the most revolutionary upgrade to the muzzleloading industry since the in-line muzzleloader was introduced.
This new system utilizes a premeasured self-contained propellant capsule. The powder capsules are sold in 80, 100, and 120-grain options. Let me further explain how this system works, as it has been misconstrued in the marketplace since its inception.
First, this system requires that the projectile (sabot) be exclusively loaded with a ramrod down the rifle's muzzle. There is no way to load a projectile other than to put it down the muzzle. The projectile is firmly seated against the bullet shelf inside of the barrel.
Secondly, the hinge action can be broken open, and the powder capsule is then installed into the open breech. A 209 Muzzleloader primer is then inserted into the backside of the capsule to charge the powder capsule.
Finally, close the action, and the rifle is ready to fire. You must pull the hammer back and turn off the safety and fire.
This new system is wonderful for newcomers to the muzzleloader market or those seeking to get back involved and branch out of their normal hunting seasons. Like any rifle, each usually has its favorite and most accurate bullet, so it is highly encouraged to get a few options and hit the range to determine which may be best for your rifle.
Overall, the general observation here is how important it is as a hunter to take the time to not only sight in your rifles and pattern your shotguns before hunts but also take some time to understand your ammunition and the performance they provide. The process of patterning your shotguns is just as necessary as it is sighting in your rifles ahead of the season. Purchasing ammunition at the retail level can be intimidating. If you stick to the basics and, determine which option will best fit your needs and spend time at the range to fully understand its performance, you will be a far more successful hunter.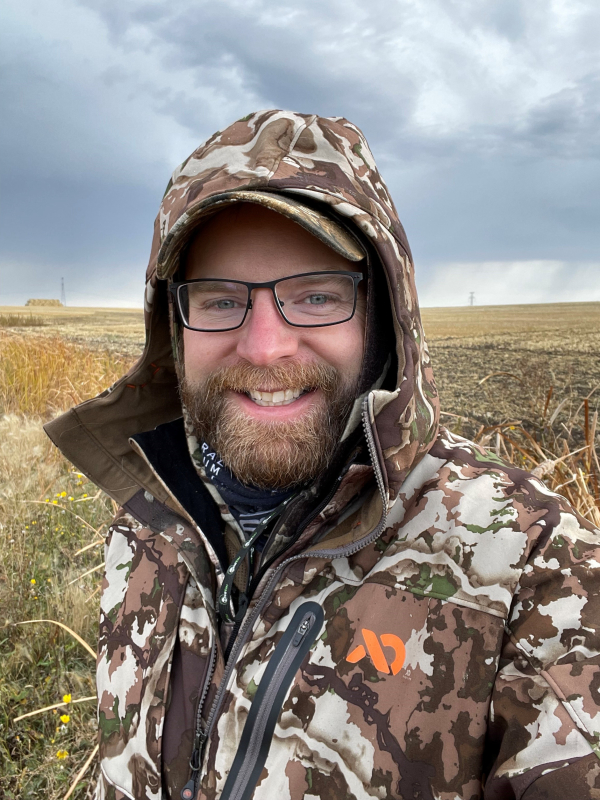 Jon has been in the Shooting Sports and Conservation Industry for over a decade and has had the opportunity to work for several leading conservation organizations throughout the country. A little bit about Jon, he grew up in Northern Iowa. It was there that he cultivated his passion for conservation programs and shooting sports. Currently he is the Conservation and Youth Shooting Sports Sr. Manager for Federal Premium, Remington, Hevi-Shot and CCI Ammunition. Jon has a strong background in conservation. He holds a bachelor's degree in environmental science from Northwest Missouri State University and a Masters Degree from Western Governors University. He works directly with conservation and shooting sports professionals across the country. He has been a leader in the R3 movement within state agencies and Conservation and Youth Programs. As an avid outdoorsman, Jon enjoys everything from chasing birds in the great prairie lands to tracking down elk in the high country of the west. Jon is a family man through and through and enjoys sharing his passion to continue work on conservation and R3 efforts for hunters and shooters across this great country.
2023-2024 Voice of Leadership Panelists
Jon Zinnel, Federal Ammunition
Dan Forster, Archery Trade Association
Brent Miller, Congressional Sportsmen's Foundation
Rick Brazell, First Hunt Foundation
Mark Peterson, Worldwide Trophy Adventure
Michelle Scheuermann, Bullet Proof Communications
Facilitators
The Voice of Leadership Panel is an appointed group of outdoor industry leaders who have volunteered to contribute their voices on crucial hunting and outdoor recreation issues to inform, inspire, and educate participants within our community.