Editor's Note - One of the key components of leadership is accountability. In the May 1, 2023 edition of The Hunting Wire's Voice of Leadership Panel, panelist Luke Thorkildsen made an error in his essay. He regrets his error and immediately offered a correction:
"In my excitement to write about this story I swapped two auction tags in my mind. At the Western Hunt Expo, the antelope Island tag was auctioned for $500K and the money raised for that tag goes to Utah State Parks. The $725K tag was an Arizona Deer Tag and the proceeds go to AZ. Both were record amounts for those tags and the money is going to be put to use for great things." Luke Thorkildsen
By Luke Thorkildsen - Board Member, The Mule Deer Foundation
This past February, many hullabaloos surrounded a Utah Antelope Island deer tag sold at Mule Deer Foundations' Western Hunt Expo.

The tag went for an astounding $700,000, which set a record for the most expensive tag at a fundraising event ever. That kind of money raises many questions, some small and some big. To the conservation community, this is a big deal. Let's look at how this money gets used and where it goes.

Before getting too far, we must look at a few things we often need to remember. The Pittman-Robertson Wildlife Restoration Act of 1937 established, voluntarily, I might add by manufacturers, a federal excise tax of 10% - 11% on items such as firearms, ammunition, archery bows, and arrows. This "tax" ensured that money was set aside at the federal level to establish, protect, and preserve land, wild places, waterways, and other natural resources that hunters need to enjoy. You will never see a line item for federal excise tax on your purchase receipt because it was already paid for you. As mentioned above, the equipment manufacturers pay quarterly based on that period's sales. The tax is treated as a cost of goods and must be paid, making it easy for us all to forget about. We will come back to this money later…

Back to the $700K deer tag.

The proceeds of that auction purchase went to the state of Utah's Division of Wildlife Resources, minus a minor handling fee to the Mule Deer Foundation for executing the sale, getting people into the room, and paying the auctioneer. There is virtually no "profit" for the NGO in this situation. Sometimes some tags are sold, and the money raised will stay with the NGO; more on that later. So the state of Utah's game and fish department got nearly $700k. This money will be used for various projects like habitat restoration, access, fence removal, and others deemed necessary by the state.

Last year the state opened the new Rice Creek WMA, a land purchase. The State of Utah purchased private land in prime habitat that will be accessible to the general public now. I was fortunate to be at the grand opening of that WMA, and, let me tell you, it is a true celebration by Utah's game and fish, Mule Deer Foundation, US Forrest Service, and other agencies. The purchase of this deer tag will go directly towards more projects like this. But that $700k can be worth a lot more to Utah. Remember that federal excise tax above? Any state can apply for funds from that federal pool of money, but there has to be a 25 % match. So Utah can now take that $700K, apply for a federal match for a specific project, and get more than a million dollars worth of work done.

This is just one example of how an NGO like the Mule Deer Foundation helps support conservation. There are a ton of nuances with every NGO, state, and federal agency. Do your research and support the ones that align with your values.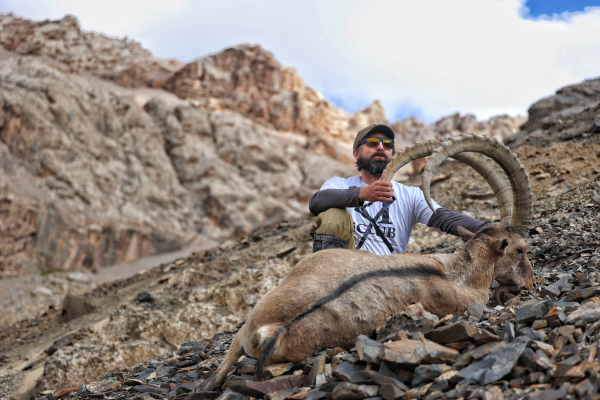 Luke Thorkildsen is Weatherby's Vice President of Sales, Marketing, and Product Development. He also serves on the Board of Directors for the Mule Deer Foundation. He's made a great career in the outdoor industry, working with some amazing brands. He was the VP of Sales, Marketing, and Product Development at Walther Arms, Product Development at Bear Archery, and Director of Product Management at Coleman the Outdoor Company. Luke is an avid adventurer. He loves spending time outdoors with his wife of 19 years and his four kids. When he's not at the range or hunting, you can find him up in the mountains on a motorcycle exploring trails or riding hard enduro. He's passionate about the outdoor industry and loves getting people involved
The Voice of Leadership Panel is an appointed group of outdoor industry leaders who have volunteered to contribute their voices on crucial hunting and outdoor recreation issues to inform, inspire, and educate participants within our community.
2022-2023 LEADERSHIP PANELISTS
Facilitators