A Southern Mud-covered Review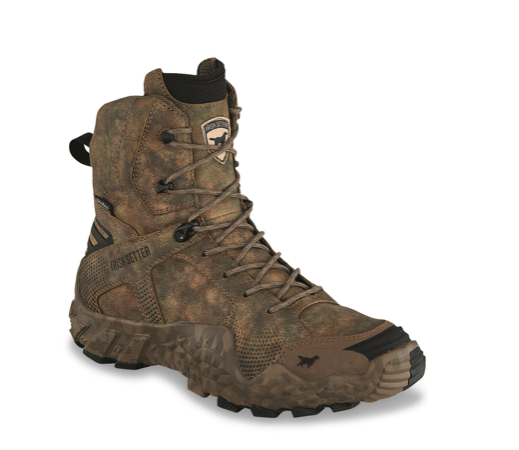 By Jay Pinsky
There are a lot of great boots out there. Unfortunately, I haven't found many that fit my feet and stocky, short calves well enough to be tolerable moreover comfortable.
After years of buying boots that were either too wide, too narrow, too heavy, or way too damned expensive, I finally gave up and hunted in hikers. For the most part, and especially in the early warm archery season I typically had here in Virginia, the hikers worked just fine but time after time I found myself wanting more protection especially from rocks, cactuses, and my own horrible sense of balance. It was a fantasy, or so I thought. After all, no one made a hunting boot that fit like a hiker but protected your foot like a boot. That was crazy talk.
Enter Kim Emery, of Firefly Publicity , who knows more about boots, shoes, and feet than anyone should. Within about ten minutes – over the phone (she answered when I called the very first time) – this kind, funny, and genuine hunting boot guru completely understood my height, weight, footprint, hunting habits, back and neck injuries, and budget. Hell, I thought she knew my feet better than I did, and after more than two months with the boots she recommended, I'll admit – she does.
Now, boots are like spouses, hunting dogs, and beers, meaning whatever one person likes may not be what works for you. Kim knows this. Remember, she didn't just push a pair of boots on me. She interviewed me, hell she interrogated me. And, once she got the answers she needed, she knew what I needed was Irish Setter's curve-ball style hunting sneaker-boot, the VaprTrek.
Full disclosure here. I didn't know. I didn't doubt her. I didn't understand what she asked me or why. But true to her word, a few weeks later a pair of VaprTrek's showed up on my doorstep and I slipped them on over a pair of my favorite Merino-wool socks.
My first impression was they were bouncy and a bit stiff around the ankles. I kept walking. The bounce evened out, and the stiffness faded as my feet and ankles began to realize they were finally wrapped up in a pair of boots that didn't just protect them but helped them. The stiffer ankle support firmly held my ankles just well enough to tell them the boots had their backs. The sneaker-like cushioned soles gave my feet plenty of pep, but feedback was always sure, direct, and reliable. It just wasn't painful. The boot worked with my feet, not against them. I could move in any direction and did with the same support and protection I got from heel-to-toe standard stuff. Look, hunters are athletes, and while I will never be confused with an Olympian, I do try and our footwear needs to be able to handle linear and non-linear movements in wet, hot, dry, cold, rough, hard, soft, loose, salty, and sometimes jagged environments.
VaprTreks do all of these things, and they have done them repeatedly for me in swamps, up and down tree stands, in mud up to my knees, in a pile of deer guts, in streams I didn't quite cross well enough, and in and out of my truck.
The best thing I can say about these boots is this: on every hunt I've worn them on, I've never had to pause and wonder why my feet hurt or were heavy. In fact, I never thought about my feet while I hunted because these boots do the one thing they ought to do, keep your feet out of your way and off of your mind so you can focus on hunting.
Now, these boots aren't perfect. They're a snug boot that I think you'd be wise to order a half-size bigger than you think you need. I also have noticed that if you leave the boots outside in the cold, the tops tend to get pretty stiff and make them hard to put on. Now, once they're on, they're fantastic but VaprTrek's are easier to put on warm.
They haven't leaked, the overmolded edges have saved my feet from plenty of rocks, deadfalls, and ladders I misjudged as well. I've gone in light and come out heavy hiking several miles with a packed-out deer on my back with my VaprTreks. That pep stayed in my feet the entire hike, and I never lost my balance even when I hiked through fast-running streams, deeper-than-I-expected mud, and lots of thorns.
Are Irish Setter VaprTrek boots right for you? I don't know. All I know is this: if you are looking for a boot that you don't think exists for your feet, call Kim Emery and ask her. Maybe she'll recommend VaprTreks. Maybe she won't. Regardless – listen to her. She saved my soles, and I bet she can save yours too.
Kim Emery
Firefly Publicity
kim@fireflypublicity.com