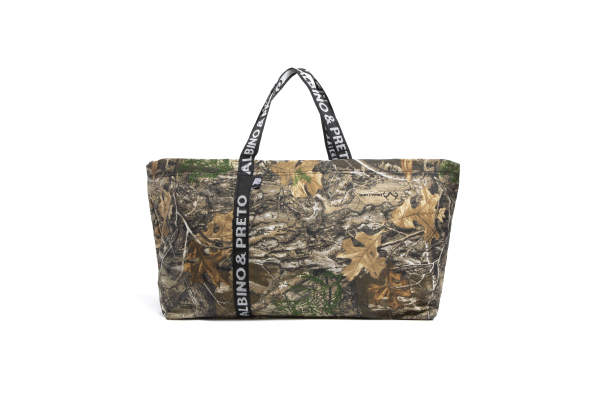 COLUMBUS, Georgia, Feb. 10, 2021 -- ? The A&P Realtree EDGE camo large tote bag is part of a collection centered around the tranquility of the outdoors and the peace attained through practicing jiu-jitsu. It's not only ideal for toting jiu-jitsu gear, but it's just the right size for carrying hunting gear, sporting gear, groceries, beach gear or anything else.
Albino & Preto is a mixed martial arts uniform company that focuses on jiu-jitsu kimonos as well as building a foundation of lifestyle and training components on and off the mats. Its apparel and gear designs channel the energy of action sports and concepts that drive fusion in different cultures.
The camo tote features 10-ounce canvas cotton and branded durable jacquard straps.
Measurements: Length: 21 2/4 inches, Depth: 14 ½ inches, Height: 13 ¾ inches.
About Realtree:
Realtree is the world's leading camouflage designer, marketer, and licensor with over 1,000 licensees utilizing the Realtree camouflage brand. Thousands of outdoor and lifestyle products are available in Realtree camouflage patterns. In addition, Realtree is committed to supporting individuals and groups that work to ensure our outdoor heritage, the conservation of natural places, and the wildlife that resides there. Find Realtree on Realtree365, Facebook, Instagram, Twitter and at Realtree.com.