By Luke Thorkildsen - Board Member, The Mule Deer Foundation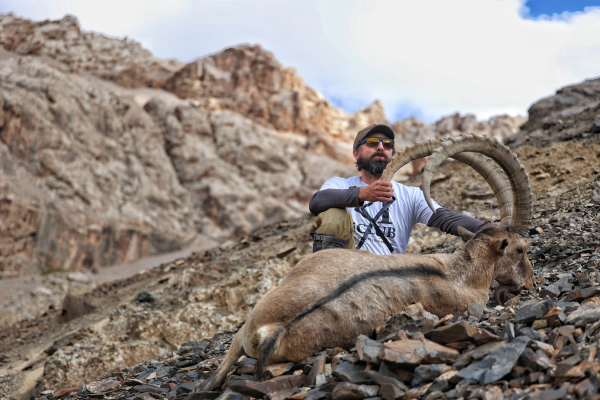 Hunting internationally can be a very rewarding experience and it can be a very scary and potentially dangerous experience. I've been very blessed to get to spend time chasing game in several countries and would love to share some tips that I've learned along the way.
Booking a hunt
Once you have decided that you want to set up an international hunt, you will need to book through an outfitter. There are very few DIY international hunts available and if you are game for that, you are probably not reading this.
It is important to know how, what, and who you are paying. Most outfitters and hunt brokers are going to ask for a deposit of approximately 50% of the hunt value at booking. The balance will need to be paid prior to leaving for your trip. Unfortunately there are a few bad apples out there booking hunts so do you best to find referrals and as much information as you can about the hunt and outfitter before paying any money.
If booking directly with the outfitter they will usually have a contract that you need to read and agree to that outlines the obligations for each party.
A broker will also have a contract of some kind and will try to make the process a little easier. I was on a hunt recently in Kyrgystan that was booked through a US based hunt broker. He was very accommodating before the hunt and everything seemed great. However, he had not paid his Kyrgyzstan based partner/outfitter prior to our arrival. This made for a series of bad events that led to a friend losing a lot of money and a missed opportunity for his dream Marco Polo hunt.
If booking a hunt through a broker, I strongly recommend that you insist on getting in touch with the actual outfitter/guide that is going to be with you while you are hunting. Sometimes the broker may not want to share that information, but you should reference the situation above where everything seemed great but the third party broker was actually playing both sides. Ask the guide/outfitter if they have been paid by the broker and if there are any open issues that need to be resolved prior to your arrival.
Preparing for the hunt
Most reputable outfitters will have a complete gear list of things you need to bring. These can often seem like overkill, but I do recommend that you follow the recommendations and ask questions about any gear that seems outlandish. Sometimes there is very good reasons to bring items that seem odd.
To bring your own firearm oversees you are going to need a CBP Form 4457. This is a certificate for personal effects taken abroad. The form will describe your firearm make, model, and caliber with it's serial number. This is to prove to customs that you left the US with a firearm and are now returing with that same firearm. I reccommend that you get this form before you depart for your trip. Some airports CBP agents will easily issue this form at your departure but it will add time and complexity before your departure. Contact the local CBP office to find out what the best plan for you geography is.
The outfitter/broker should help you with any necessary import permits required in the country you are planning to visit. Make plans and expect something to go wrong. On a trip to Argentina, my shotguns did not make it on the first day of the trip due to airline delays, but the lodge had loaners available and I did not miss any hunting action.
Make sure you bring what you tell your outfitter you are bringing. Remember that no other country has the freedom that we enjoy, especially around firearms. Don't decide at the last minute to bring a different rifle or different cartridge than what you have an import permit for.
Go through every item that you bring with a fine tooth comb to make sure that there are no surprises. On my trip to Kyrgyzstan my hunting partner had declared that he was bringing in a 300 WBY rifle and ammunition and was permitted accordingly. Upon entering the country, both our gear and our bodies had to pass through a metal detector. Our ammo was in a separate locked container, but my 300 WBY friend had a surprise in the form of a 6.5 WBY RPM cartridge in his rain jacket. All of the sudden the customs agents got very alarmed and our local fixer said this was a serious problem. It is hard to say if that was really a serious problem or not because after 15 minutes of debate and panic with our fixer he said that this was a problem that $100 USD can fix. I've heard of other problems in other country that can be fixed with some good old US Dollars. Of course it is best to avoid issues but make sure you keep some cash in multiple denominations on your body while traveling in case you need to grease some "problems".
Plan to bring your trophy home. This is not an fast process and I recommend that you contact a CITES broker prior to your departure so they can work with getting your trophy home. It can be time consuming. Most international species are going to need a vet certificate and adequate drying time before you can even begin the paperwork process of importing to the USA.
Traveling to the hunt
Pack as efficiently as possible, but also try to make the trip enjoyable. I love my Schnee's boots but I don't like wearing them while traveling. I prefer to wear shoes that I can easily and comfortably take on and off at security checkpoints. Try not to dress like a hunter. While dressing like a hunter here in the US is 100% awesome, in other places it can make you a target since most people coming into hunt will have cash on them for tips.
Your outfitter should arrange a translator/fixer for you that will be waiting at customs for you. These people are typically very nice and helpful. Be kind to them and let them know if you have any questions or special needs.
During the hunt
The number one thing is to have fun. Try to forget the stress of planning and traveling to get to where you are going. Enjoy every moment. As much as is appropriate, try to enjoy the local food and culture for where you are visiting.
Don't do anything you are not comfortable with. I was on a driven hunt in Germany a few years ago and was told to shoot at a wild hog that was directly in line with the drivers. I was not comfortable with pointing guns towards people and they locas did not understand that.
You are paying for the hunt, and in many cases saved up for a long time to pull it off. Don't be afraid to remind the guides that you are the customer if they get pushy with you.
Tipping - this can be vary from place to place so make sure you ask your outfitter ahead of time so you know what to expect and can plan accordingly - budget approximately 10% of the hunt cost for tips.
Enjoy
From epic wingshooting in Argentina, to chasing Ibex in Spain, to plains game in Africa, and many other adventures, hunting internationally can give you so many different amazing hunt experiences. Go with a friend and find the adventure of a lifetime. Trust your instincts and do your research on guides and outfitters. Even though a close friend of mine got burned, i would still recommend that you give it a shot and plan an adventure. I can't wait for mine. Canadian moose is calling my name next fall!
Luke Thorkildsen is the Vice President of Sales, Marketing, and Product Development at Weatherby. He also serves on the Board of Directors for the Mule Deer Foundation. He's made a great career in the outdoor industry working with some amazing brands. He was the VP of Sales, Marketing, and Product Development at Walther Arms, Product Development at Bear Archery and Director of Product Management at Coleman the Outdoor Company. Luke is an avid adventurer. He loves spending time outdoors with his wife of 19 years and his 4 kids. When he's not at the range or hunting you can find him up in the mountains on a motorcycle exploring trails or riding hard enduro. He's passionate about the outdoor industry and loves getting people involved.
---
The Voice of Leadership Panel is an appointed group of outdoor industry leaders who have volunteered to contribute their voices on crucial hunting and outdoor recreation issues to inform, inspire, and educate participants within our community.
2022-2023 LEADERSHIP PANELISTS