By Dan Larsson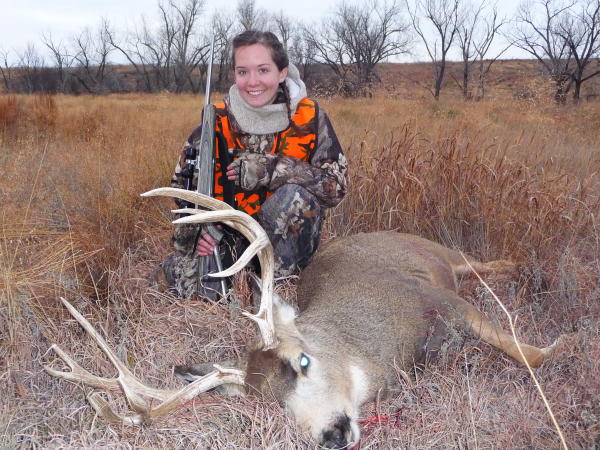 To spend time in the outdoors with your wife or daughter is a blessing. I cannot adequately explain the fullness of this statement as words fall short. A year before I met my wife, I bought the "Wife Rifle." What, you ask, is a Wife Rifle? In my case, it was the rifle I purchased for my wife before I knew who she was. I have bought her a couple since and tried to convince her that I bought them for her. I think she would believe me if she ever shot them.
The wife rifle, a Ruger Hawkeye Compact, had a beautiful gray laminate wood stock in stainless hardware and a 16" barrel chambered in .308 Winchester. My favorite gunsmith and I relieved the side of the stock to drop the base rifle below 6 pounds. Complete that with a Burris compact 2-7 scope, and all you need is a wife!
Proverbs 31:10-11 says, "An excellent wife, who can find? For her worth is far above jewels. The heart of her husband trusts in her, and he will have no lack of gain."
I imported my wife to Montana from the great state of Indiana - with her father's blessing. I gave him a rifle at the wedding as he gave me his daughter. He still says I got the better end of the trade. I agree! Adrian is a more excellent wife than I deserve or could wish for. She puts up with me and wants to spend time with me. It isn't her desire for hunting that brings her afield with me; she desires to be with me. (That sentence brought tears to my eyes as I wrote it.) I trust her and love her with all my heart.
Married in November, fast forward a month, and you find us laying on a creek bank, above a herd of mule deer. There she was in my camo clothes, Wife Rifle in hand, waiting for a clear shot at the buck who was nosing his does around. Yes, she was pregnant, but we didn't know it at the time. That young man in her womb then is now the keeper of the woods around our house. Protecting our attic from the squirrels that keep chewing their way in. A .30 caliber 130gr Barnes TTSX put this beautiful trophy on the ground. Trophy wife? In every way, yes, she is!
The following year, it happened again. My oldest and his younger sister are 15 months apart. There she was, steadying a rifle at an Ewe Sheep in Montana with me, wondering how a person could maneuver with such a baby belly. Perfect shot. This time with a blued Ruger in .223
Remington and a 50gr Barnes TTSX bullet. The ewe was at an angle, and the little .223 bullet traveled approximately 20" before stopping in the opposite shoulder. This combination of rifle and ammunition is excellent on deer and sheep! Please check the game laws in your state before using the .223 Remington, as many states have a .243 minimum caliber restriction.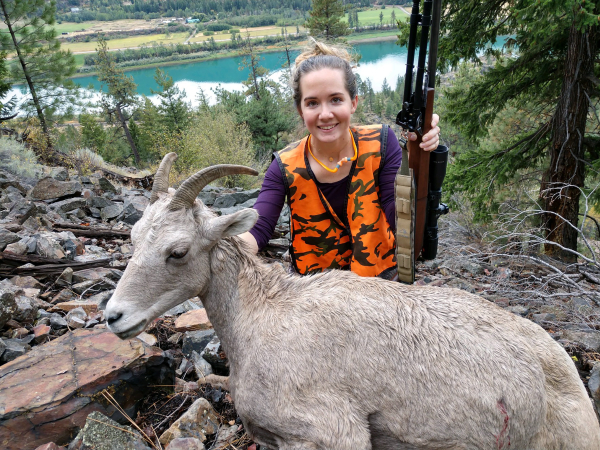 A few years later, our third daughter along, she harvested a small but respectable muley buck just over the hill from the previous one. Our daughter loved getting to see and touch the deer. It made for a humorous picture! All my kids love being along on the hunt and helping me cut up the meat later. We eat a lot of wild game and it is wonderful. It's organic and free-range even!
The last hunt where my wife harvested an animal was another ewe mountain sheep. She hadn't drawn a license that year, and so we were not prepared for the opportunity. Fish, Wildlife, and Parks called her and informed her of a license drawn by someone else and then refused. We hope and pray nothing terrible happened to the owner of the license. We were, however, ecstatic when it was offered to my wife.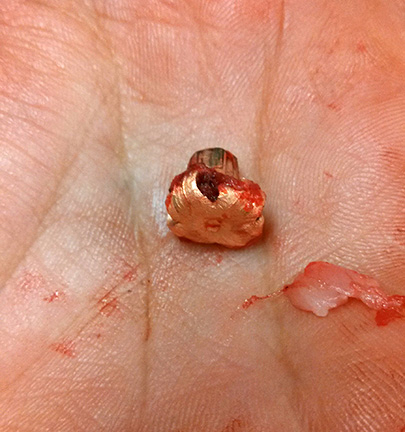 We slowly worked our way up the bottom of a ravine, and suddenly there was a herd of sheep in the trees just ahead of us. They didn't give my wife a shot and started up a rockslide to our right. It always amazes me how you can hear the click-clack of their hooves for hundreds of yards. By the time they did offer a shot, they were over 200 yards at a 45-degree angle that seemed straight up. Using a 6mm Remington Ackley and Barnes bullets, Adrian shot a very nice ewe. It took us 15-20 minutes to make our way up the treacherous rockslide to the animal. I skinned and boned out all the meat on the ewe and put it in my backpack. My wife would gut an animal if she needed to, but I always want to be with her, and hopefully, she will never need to. There are more rattlesnakes in this part of Montana than almost any other. A fact I didn't tell her until we were headed down the mountain. It wasn't funny.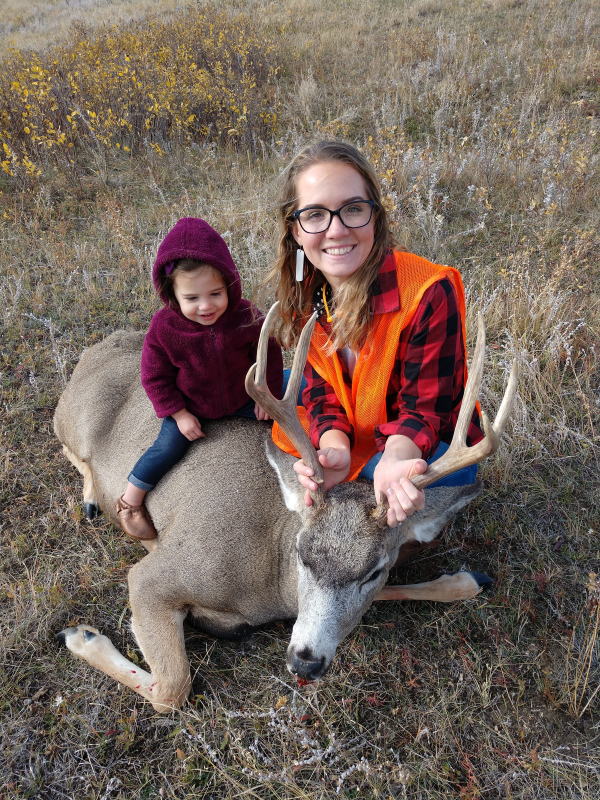 While a guy needs some alone/guy time, please spend as much time with your wife and kids as you can. They want to be a part of your life. I love spending time with my wife and kids far above all the wealth in the world (jewels). You will draw closer if you want to.
If you haven't found your wife yet, don't underestimate the power of buying a wife rifle and finding the excellent woman it belongs to.