By Hank Forester – Director of Hunting, National Deer Association
"Before the Field to Fork event, I was reading and watching various items on hunting. I estimated that it would have been at least two (2) years before I would even venture out to go hunting." – Avery Toledo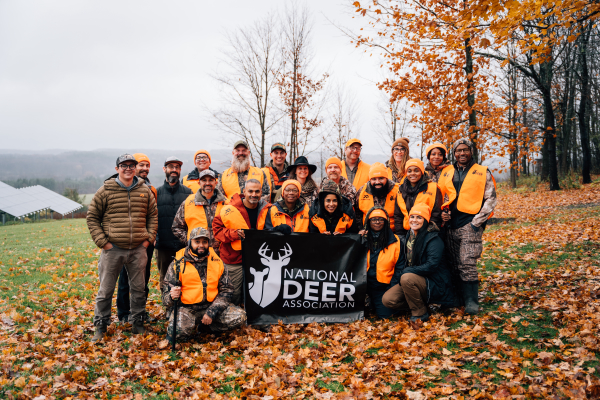 It seems natural to say we met on the back deck of a Nature Conservancy office in Schenectady, NY, but it's 2021, and like the start of many Field to Forks, we hosted a Zoom meeting first. Avery Toledo, a Contract Specialist for the New York City Department of Health and Mental Hygiene, has a prominent personality, a deep New York accent, and usually sports a Sherlock Holmes hat which fits him very well.
Luckily for Avery, a group assembled that evening, Veteran's Day 2021, from all around the country to take eight Black, Indigenous, and People of Color (BIPOC) new hunters and New York residents on their first hunts.
The group included The Nature Conservancy (TNC), Hunters of Color (HOC), Backcountry Hunters and Anglers (BHA), the New York Department of Environmental Conservation (NYDEC), and the National Deer Association (NDA). We have been motivated by the 2016 National Survey of Fishing, Hunting and Wildlife-Associated Recreation. According to the U.S. Fish and Wildlife Service report, the 11.5 million hunters in the U.S. were roughly 90% male and 97% Caucasian. Representatives from these groups had been meeting for almost a year, convened by TNC, who wanted to open up hunting access to some of their lands, offering more equitable access. Each group brought their expertise to the cooperative program:
TNC brought the land.
HOC recruited the hunters.
BHA served as our mentors.
NYDEC helped get everyone licensed.
NDA helped with the replication of their Field to Fork program.
This replication would be a "destination model," as we call it, condensing the training and hunting into a four-day event with follow-up hunting opportunities after the organized event.
Avery was recruited online. He saw a post on Twitter and applied for our program via a Google survey. From the excel results, our group selected our candidates -- Avery, 44, male, Hispanic of Caribbean descent, from New York City, NY, among them. Avery had indicated he had no family or friends who hunt, and although he'd never been hunting, he was interested in "learning and continuing the hunting tradition". He'd also indicated a connection with nature, self-reliance, and that recreation and meat were his motivations for learning to hunt. In conversation, Avery elaborated on why he wanted to learn to hunt, "Several reasons, primarily to satiate that primal feeling within me, to get in touch with nature, to become more active, to accomplish something challenging, to develop new skills, and to harvest my meat."
Avery is not alone. Additional research, Making Mentorship Work by Wildlife Management Institute, Southwick and Associates, and D.J. Case reports there may be as many as 24.7 million Americans who want to learn to hunt. That's more than twice as many potential hunters sitting on the sidelines than currently licensed hunters.
Before showing up to the event, we offered all of our new hunters free access to online hunter education and our Deer Hunting 101 online course through our partners at Kalkomey (better known as Hunter-Ed.com). Avery had already completed his hunter education course, which we see with many aspiring hunters.
On that November evening, all of us met, with Paul Gallery of the TNC hosting that evening's proceedings. Paul also supplied the pizza oven and fixings for make your own pizza night with beer donated from the Westkill Brewery. (After all, this was an event for grown-ups.) We focus on new adult hunters as they're the most efficient audience. Adults have cars, checkbooks, calendars that they fill at their choosing. They can learn to hunt today and replicate the process tomorrow recruiting and mentoring their friends and family – including kids. Far too often, hunter recruitment programs have mistakenly focused on inefficient audiences and often those from a hunting culture or background. We make sure to identify our targets.
Creating a hunter comes down to building confidence, which is best done through education, camaraderie, and community. Our programs are built to give our participants the knowledge to continue as hunters but ultimately empower them through social support, i.e., community. You probably found this community in a family or a hunting camp if you hunt. New hunters need to be invited into this community, or it must be created for them. The best part is, time and time again, we've seen diverse groups come together over a shared passion for wild food and wild spaces. And that's exactly what happened.
After pizza, with some venison for toppings, and a beer or two, we gathered for introductions. Avery said he grew up in NYC, which offered adventure and built character but took "decades to overcome". He is a father and hopes to make hunting a family tradition. Also gathered are all the mentors and others helping facilitate the event.
Mike Poulopoulos would serve as Avery's mentor. Mike is a volunteer for BHA and knew the mission of this event was something he wanted to support. "That sounds like a ton of fun. I want to be a part of that and help out," said Mike. "At root, though, I'm a social person and enjoy sharing my passions with the hope of sparking an interest in others. I also remember how excited I was to get my first season afield. What a great way to experience that fresh excitement again."
Mike's story is not too different than Avery's, even though they come from diverse backgrounds. "I'm pretty green," Mike said, "and I'm also pretty proud here. I started in my mid-30s, about six years ago. Around then, I dedicated time and energy to attend the safety courses and then get out in the woods and hunt whitetail. The way I saw it, I was running out of time to make it a tradition in my life, and I went for it. No one in my immediate family hunted; I had never gone hunting as a kid, no one had offered to take me hunting."
That evening we sat around a campfire, and Lydia Parker, the co-founder of HOC and the Mohawk Wolf Clan, shared the Ohén:ton Karihwatéhkwen, a traditional thanksgiving address about the importance of relationships in all life forces in Creation. Its purpose was to bring the minds of everyone there at the gathering as one.
Early the following day, we all met at a private residence for our education and training portion of the event. The morning began with breakfast, then with safety and shot placement education. We trained all the new hunters on both crossbows they'd be required to use on the TNC property and rifles we planned to use on follow-up hunts where rifles were allowed. The NYDEC also joined to discuss regulations and hunting opportunities in the state.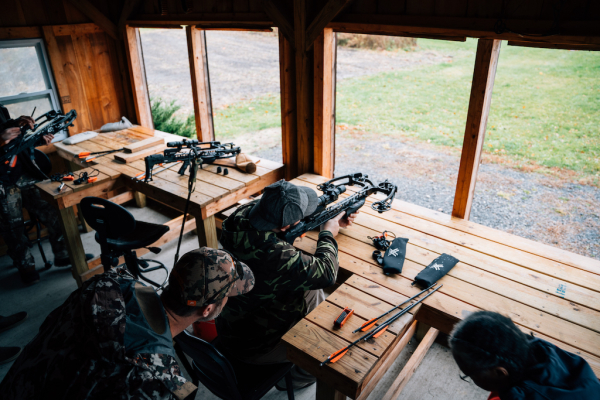 Mossberg was gracious to send Patriot rifles, in both 30-06 Springfield and 450 Bushmaster, and German Precision Optics (GPO, USA) supplied the optics, a Passion 4-12x42mm and a Spectra 1-6x24mm to mount on the respective rifles. Both rifles and optics shot and functioned exceptionally well, and with the light/crisp "Lightning" triggers on the Mossberg rifles, everyone shot well. Most new hunters preferred the 450 to the 30-06 as the recoil was more manageable for the new hunters. We requested the 450 Bushmaster because of its straight wall cartridges required on our next stop on tour – more on that later.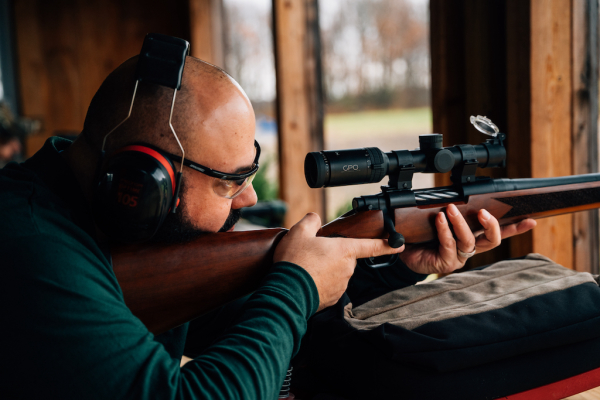 After plenty of time to become comfortable and proficient at shooting, we had lunch, geared up, and gathered for a group photo before heading out. That afternoon, we sent the new hunters afield with crossbows on the Hannacroix Ravine preserve in ground blinds we had put out a couple of weeks prior. The weather was cold, we saw deer, but we fired no shots.
After the hunt, we all gathered back at our host cabin. We shared stories and dinner, including venison dishes prepared by Brian Bird of BHA, corned venison Rubens, venison goulash, and venison tacos.
Mike recounted the hunting vividly, "Our heart rates skyrocketed a few times as deer came into sight. The first deer was a doe, trotting off at about 60 yards, tail flagging. It looked to me like a buck would be on her trail soon enough. I told Avery to be ready, and then a small buck came along, nose down on the same trail. I bleat called quick and then grunted once, which caused the buck to turn and start coming right down to us through the briar thicket, nose still down. Before he got to our clearing, though, he realized he was off her scent and headed right back up and picked up her trail. I grunted again to give him something to think about for later.
"About an hour later, I happened to look across Avery and see a small buck on the other side of the blind. He was milling about at about 20 yards, right in the clearing. 'Deer, deer, deer, deer, deer!' I said, sounding like a machine gun. Avery jumped to attention, but he couldn't position himself to get a clean and clear shot before the buck walked off, getting as close as 10 yards from the blind. Man. I was grateful he was excited for the opportunity because I was disappointed that I hadn't seen the deer sooner. As we left the blind later, he mentioned how glad he was to be out in the woods hunting. I became so focused on the missed opportunity of the kill that his reminder that we were in the woods hunting all the while placed me in a better perspective. I value that moment. It was sincere and meaningful."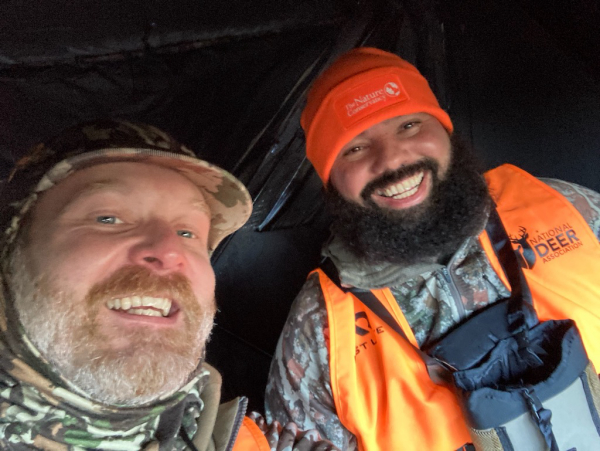 The next morning came early with 'grab and go' breakfast and coffee and everyone returning to their blinds. Deer were seen, including some rut activity, but again no shots were fired. When everyone returned to camp, we ate lunch and returned to shooting while others had the opportunity to relax.
We had a local NDA member drop off a hunter-harvested deer between hunts to demonstrate if we did not harvest a deer during the organized event. Spirits were high for the evening hunt, but Mother Nature had a different plan. Severe weather hit the hunting property just about the time our hunters settled into our blinds. We decided to recall the hunters and err on the side of safety. The challenging weather helped form more camaraderie. Our hunters remained in high spirits and returned to camp for cleaning and processing demonstrations and a warming dinner of venison stew.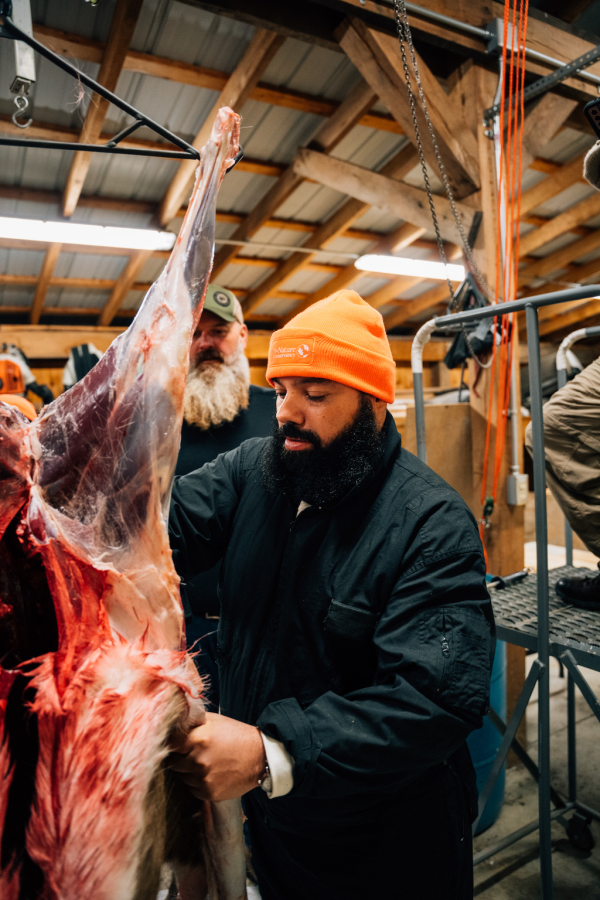 Avery wrote after the season, "Although I was not able to harvest a deer. My two follow-up outings after my initial hunt produced many learning opportunities and good fellowship and camaraderie." His plan moving forward is to "continue learning through knowledgeable sources like books, hunting organizations, and reading through the National Deer Association information (that is why one of the first things I did after my first hunt was to become a member). Continue participating in local hunting organizations, learning archery, & practicing my shooting. Last and most important, getting out in the field as often as possible."
Mike reiterated Avery's testimony in a separate conversation, "Avery is eager to learn and open to the experience of spending hours in the woods. I know he's been researching on his own as he would pepper me with questions and listen if I was offering up detail on what was happening in the woods. He now knows that if a blue jay is squawking, something is walking. It took me a few years to put that together."
Later Avery sent a "Thank You": "It was a perfect event; from arrival to leaving, everything was just perfect. Also, please thank the vendors who helped sponsor the event, from First Lite to the Mossberg rifles, the excellent crossbows, and everything else you could put together to help induct a new set of hunters into the hunting fraternity.
"It is impossible for me to explain adequately what you, the National Deer Association, and your vendors did for me and my other fellow mentees. From the technical aspect of hunting to the understanding of the responsibility we have as hunters and stewards of the People's vital resources, all the way to how you treated us, I am genuinely thankful. For me, you took a longtime dream and made it a reality.
"Field to Fork is helping me start a family tradition. My adult daughter will be joining me next hunting season. That is great by itself, but the Field to Fork program will also allow me to bond with my second, who is on the way. I look forward to sharing the new Toledo hunting tradition with my family. Already your Field to Fork program is impacting three different generations while helping to strengthen family ties."
Now a question for you: can you help us create more hunting traditions with aspiring new hunters?