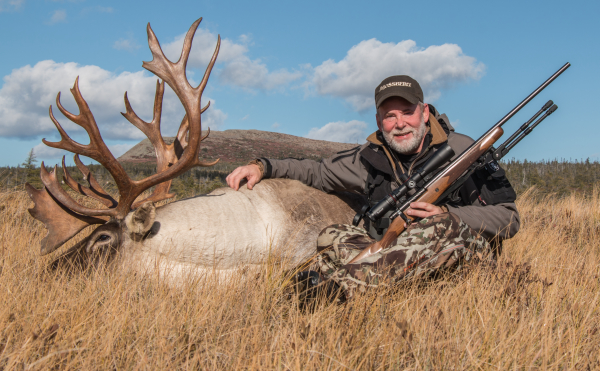 American hunters have lived by the Winchester Model 70, Remington 700, Ruger 77, and various Browning bolt-action rifles for a long time. Like Ford, Chevy, and Dodge, we've trusted these brands, and find it hard to accept there might be other options. Mossberg – who by the way introduced a new handgun this year – has long been regarded as a fine shotgun company, but they've recently got serious about centerfire rifles. Incidentally, the first firearm Mossberg every produced was a handgun.
In 2014 I was one of the first hunters to take the new Mossberg Patriot to the field. My son and I used it in Africa to take lots of critters. Two years later I took another Patriot to Vancouver Island and killed a fine black bear. Then, a few weeks later, my son used that same rifle for buffalo in Africa. Last fall I managed to complete the Newfoundland Grand Slam – moose, woodland caribou, and black bear – with the beautifully stocked Patriot Revere. This summer I'll take that same rifle to Africa for kudu and warthog.
Mossberg offers a wide selection of Patriot rifles, and for 2019 introduced four models chambered for the 450 Bushmaster, which should be very popular in states now allowing straight-wall cartridges for deer hunting. The point of all this is that those brands we've trusted for so long are not the only trustworthy brands to choose from. I gave up on Ford, Chevy, and Dodge trucks after I owned my first Nissan; and trust I them more than any truck I've owned. I also trust the Mossberg Patriot. If I didn't, I damn sure wouldn't keep hunting with it.